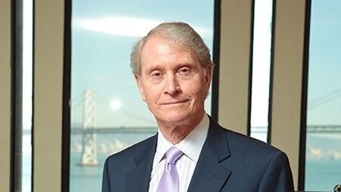 James Bostwick, founder of Bostwick & Peterson, is one of the most experienced medical malpractice and personal injury lawyers in San Francisco. Attorney Bostwick has been a trial lawyer for over 45 years and is a member of the California and Hawaii State Bar Associations. His main office is in San Francisco, CA and he practices in the courts of many other states including Hawaii, Colorado, Oklahoma, Nevada, Washington, Florida and Arizona. He is one of a few medical malpractice lawyers in the nation to be certified as a specialist by the American Board of Professional Liability. He has set several national, state and local records for jury verdicts and settlements on behalf of his clients.
Attorney James Bostwick is a past President of the International Academy of Trial Lawyers, widely considered the most exclusive and prestigious trial lawyer organization in the world. Membership in the Academy is by invitation only and limited to no more than 500 plaintiff and defense trial lawyers nationwide. He is an invited member of the elite organization, the "Inner Circle of Advocates," which is limited to 100 of the top plaintiffs lawyers in the country. He is one of only 60 California plaintiff attorneys listed in the "Best Lawyers in America" book and is one of the few so listed since the book's inception in 1983. Mr. Bostwick has been featured in Newsweek, Town and Country and Forbes magazine articles noting him as one of the top trial lawyers in America.
He has also received recognition by the California State Bar Journal and the San Francisco Chronicle as being one of the top trial attorneys in the Bay Area. He was nominated as Trial Lawyer of the Year. He has received the annual Presidential Award of Merit from the California Trial Lawyers Association for a recent record verdict. Attorney James Bostwick was also recently featured in the California State Bar Journal as one of the top legal malpractice specialists in the state. Every year Mr. Bostwick is listed as one of the top 100 "Super Lawyers" in the State of California.
Backed by Record-Setting Results
We've Recovered Over $750 Million for Our Clients
$21,000,000 Auto/Truck Accident
$11,000,000 Neonatal Injury
$10,680,000 Birth Injury
$10,000,000 Birth Injury
$9,960,000 Medical Malpractice
$8,900,000 Labor and Delivery Injury
$8,000,000 Brain Injury
$8,000,000 Medical Malpractice
$8,000,000 Medical Malpractice
$8,000,000 Medical Malpractice
What Sets Bostwick & Peterson, LLP Apart?
Over $750 Million Recovered for Our Clients
Record-Setting Birth Injury Verdicts & Settlements in Four States
We Have Received the Trial Lawyers "Presidential Award of Merit"
We Have Been Included in the List of "Best Lawyers in America" by U.S. News - Best Lawyers®
Attorney James Bostwick Is a Certified Specialist by the American Board of Professional Liability
We Are Members of the Inner Circle of Advocates, Which Is the Nation's Top 100 Plaintiff Lawyers